What is Digital Marketing? Everything you Need to Know
Digital marketing is a way of communicating with your audience, where you can engage them through digital channels.
Different dgital marketing strategies have different goals for a company, including increasing brand awareness, boosting web traffic, and increasing overall leads and revenues.
Many universities and online education platforms offer, and the demand for digital marketing certificates has increased in recent years.
We have been in the digital marketing industry for years and want to share our knowledge.
In this guide, you will discover everything you need to know about thess services,
This blog is the perfect guide for those new to digital marketing and looking for an easy-to-understand explanation of these services.
We'll go over the different channels, examine the different types of digital marketing, and show you how they all work together – so keep reading if you're interested in finding out.
What is Digital Marketing?
Definition
The term digital marketing refers to the promotion of products and services through digital channels, such as website marketing, social media marketing, search engine optimization (SEO), PPC advertising, content marketing, email marketing, video marketing, and mobile apps.
Digital marketing is any marketing that involves the use of electronic devices.
Digital marketing can be used for:
Brand awareness – building brand recognition through your website or social media channels.
Sales conversion – increasing the likelihood of customers buying your product by making it easier for them to find you online.
How It Works
The way digital marketing works is simple.
Your first step is to define your digital marketing goals, i.e., what you want to accomplish through digital marketing, which can be anything from increasing brand awareness to increasing sales.
Depending on your goals, you'll need to decide which channels can help you reach them.
Digital marketing is a term used to describe the techniques used by businesses and brands to reach their target audience online.
There are multiple ways that digital marketers can reach their audiences, including websites, social media, and email campaigns.
Suppose you would like to identify which digital channel will be most beneficial for your business. In that case, you can create a plan detailing how much money you will spend, who your target audience is, how you will measure your results and other information that will assist you in defining the strategy.
B2B vs. B2C
B2B (business-to-business) and B2C (business-to-consumer) companies benefit from digital marketing strategies. However, the best practices vary significantly.
Here's how B2C and B2B marketers use digital marketing.
Often, B2B clients have longer sales processes and thus require relationship-building strategies. In contrast, B2C customers prefer short-term offers and messages.
Digital B2B marketers present evidence and logic in B2B transactions. Typically, B2C content focuses on making the customer feel good.
Marketing materials that best drive B2B decisions are typically shareable and downloadable. B2C customers, on the other hand, prefer one-on-one interactions with brands.
Identify which potential customers you want to reach with the help of your online marketing campaigns. By doing so, you can ensure your marketing efforts are practical, and the attention of your target audience is captured.
Digital Marketing Channels
There are many channels, including:
Website Marketing
Websites are the center of all marketing campaigns in the digital marketing world. They are potent channels by themselves and are also used as the medium for executing other campaigns.
Ideally, create a website that represents your brand, products, and services in the best way.
It would help if you devised a digital marketing strategy once you have a website to increase traffic and sales.
Social Media Marketing
Marketing via social media promotes brand awareness, engages customers, and drives website traffic.
Social media marketing is a way to build your brand and engage with customers. It'sIt's also a great way to reach new customers and clients and build relationships with existing ones.
Social media marketing can be done via social media platforms like Facebook, Twitter, and Instagram. You can also use paid ads on these sites if you want them (although the most popular one is Facebook).
No matter what type of business you have, though—whether large or small—social media marketing should be an essential part of your plan for success in today's digital world.
An excellent digital marketing analyst can analyze statistics and look for ways that the company can improve its social media marketing efforts.
Content Marketing
Content marketing is a form of marketing that focuses on creating and distributing content to attract, acquire and retain customers. This type of content aims to build trust with your audience by sharing helpful information about your organization that helps them solve problems or make decisions.
Content can be used to generate leads for sales or services (such as a blog post), drive traffic back to your website or landing pages (like an email newsletter), educate people about new products or services in the marketplace, etc.
Search Engine Optimization (SEO)
SEO (Search Engine Optimization) involves increasing a website's or web page's visibility in search results. It is not a one-time project but an ongoing commitment that requires constant attention.
In today's SEO world, the following are the most important elements to consider:
Content quality.
User engagement level.
A mobile-friendly interface.
Inbound links and their quality.
SEO isn't just about keywords—it also involves high-quality content, a strong brand presence online, and user experience design to help your users find what they are looking for. SEO is about getting your content in front of the right people on the web.
A search engine optimization strategy is not about tricking search engines—it is about optimizing your site so that when someone searches for something related to your business, they will see a link leading to your website (and can then click through). SEO can help you reach and convert potential customers into paying customers.
Pay-Per-Click (PPC) Advertising
Businesses often use Pay Per Click ads to promote their products or services, and they can be purchased through search engines.
Pay Per Click shows ads in response to a search query made by someone looking for what you're selling.
Your ads can be displayed to people searching for terms related to your products or services by setting up PPC campaigns on Google, Bing, Linkedin, Twitter, Pinterest, or Facebook. Using PPC campaigns, users can be segmented based on their demographic characteristics (age, gender, etc.), interests, or even location.
You pay a fee to the provider whenever a user clicks on your advertisements.
Both PPC campaigns and SEO make up Search Engine Marketing (SEM).
In local digital marketing, PPC is important.
Email Marketing
Email marketing is an effective method of reaching your customers. It's also a great way to build relationships with them and drive sales.
An email has been proven to be one of the most effective ways for marketers to attract new subscribers and keep current ones engaged.
It is no surprise that email marketing remains one of the most profitable digital marketing channels today.
Video Marketing
Video marketing has become increasingly popular as a channel to drive traffic and rank high in search engines. Over half of U.S. adults watches YouTube.
Video marketing is a great way to promote your brand and engage with customers. Here are many reasons why video marketing is popular:
Video is fast-growing: Video continues to be one of the most popular forms of content online, as it can help you generate the most leads.
Video helps build trust: The human eye tends to respond better when watching something than reading text or looking at static images on a webpage, which makes it easier for audiences to connect with your message in an emotional way.
Using video also allows brands like yours—whether big or small—to reach out directly to their target audience by capturing them while they're doing something exciting or fun.
Mobile Marketing
Mobile marketing is a digital marketing strategy that entails several different techniques, including mobile banner ads, SMS messaging, push notifications, in-app advertisements, QR codes, etc.
Content must be optimized for mobile devices to maximize its effectiveness.
Partnerships & Affiliate Marketing
In partnership and affiliate marketing, you agree with a software or service provider and share/earn commissions on the sale of associated products and services.
The affiliate or affiliate marketer receives a commission for every sale made by their customer. They get paid for every click on the link that leads people to the product or service that you're promoting.
The best affiliates are not just the ones who drive more sales for you but also those who positively influence other people to buy or connect with your brand.
Many companies outsource their online marketing efforts or hire an in-house team and use automated marketing software to cover the marketing needs of their business because there are many ways to market your business online. Investing a little money in this area can give you a better return on investment (ROI).
Search Engine Marketing (SEM)
When you use keywords, phrases, and links on your website to generate traffic, SEM is one way people find out about your business – this helps you rank high in search results so that more people see what you're offering.
Benefits of Digital Marketing
Let's talk about some of the most important benefits of digital marketing.
It is cost-effective.
A broad geographic reach is available.
Your customers can engage directly with you through it.
It is possible to measure and analyze results quickly and transparently.
The conversion process is easy and convenient because people take immediate action and stay connected with you.
You can gain valuable insight from your customers, the market, and other participants in the industry.
A real-time analysis of data is possible.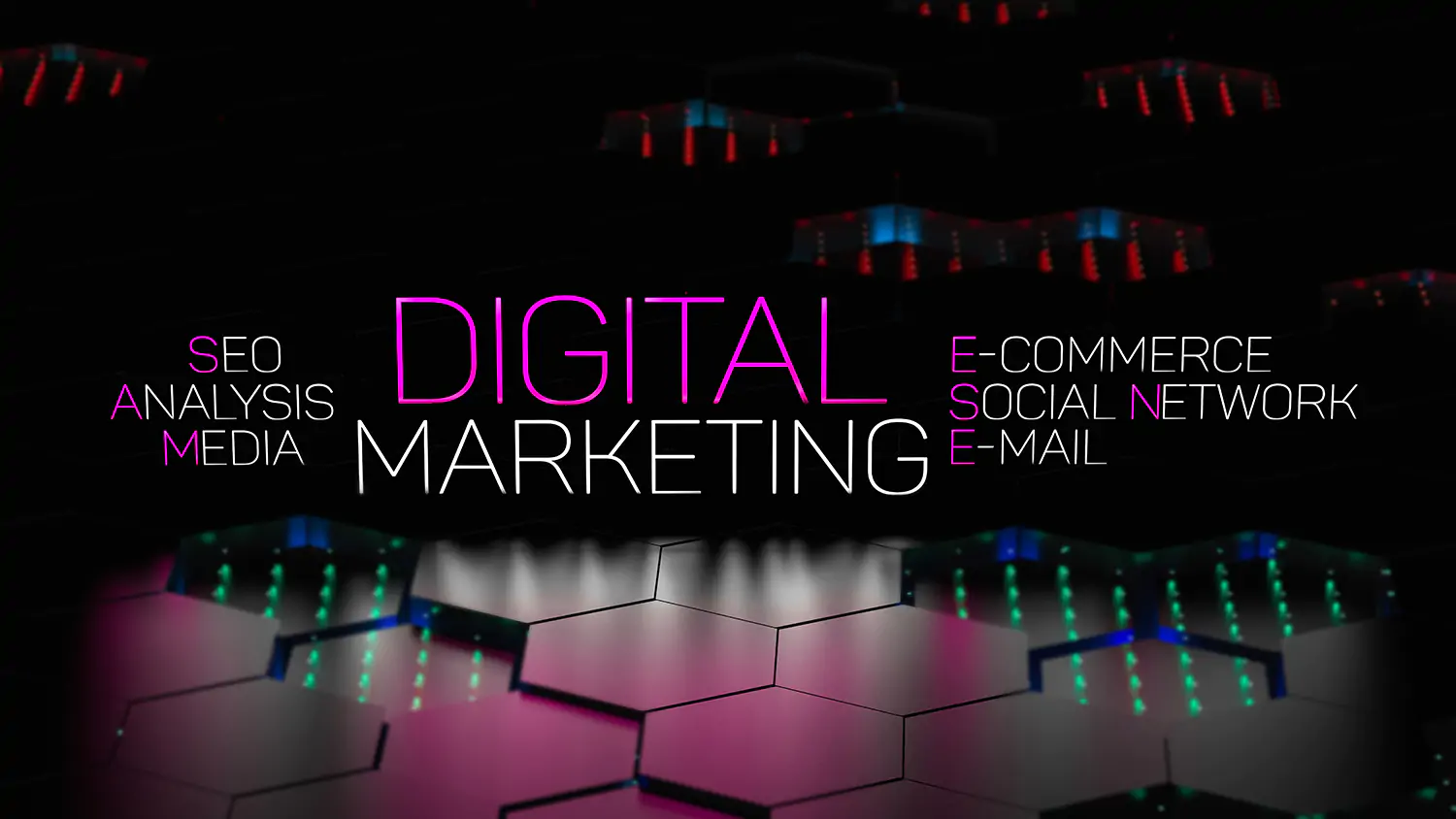 How to Create A Digital Marketing Strategy
Your digital marketing strategy should include a detailed outline of how you intend to make use of the various digital marketing channels to accomplish your business goals.
Here are a few things you should keep in mind:
Marketing strategies must be based on specific, measurable, achievable, relevant, and timely (SMART) goals.
Make sure you know who your audience is.
Plan your budget.
Decide on your digital marketing channels.
Streamline your marketing efforts.
Get the right digital marketing consultant today who can help you set up an effective digital marketing strategy for your brand or business.
How Do I Find a Digital Marketing Agency Near Me?
If you're a startup business or a small company and you're looking to find the right digital marketing agency for startups near you, first, you need to:
Do some research online.
Narrow your search.
Your agency should be up-to-date.
Ask for a sizable portfolio and the past clients they have worked with.
Ensure that they have an experienced team.
Make sure that the agency has similar values and culture to your company.
Ask for social proof.
Consider all these characteristics when choosing a creative digital marketing agency or a white-label digital marketing agency as a partner.
What is Interoperability in Digital Marketing?
In digital marketing, interoperability refers to the ability of various digital marketing software platforms to work with each other. As a result, businesses can better understand their customers and cater to their needs by sharing data across platforms and enabling users to move between them seamlessly.
In healthcare digital marketing, the potential of interoperability is enormous.
To formulate a response to any pandemic, it is critical to collect and correlate data regarding the outbreak's aggression and infection rate.
Conclusion
We are living in the age of digital marketing. It is a powerful tool that can help your business grow and succeed.
In this blog, we have discussed digital marketing, its types, and setting up a digital marketing strategy for your business. If you think your existing strategy might need an upgrade or digital marketing tips, then we are here to help you.
Contact us today so we can help you launch a successful digital marketing campaign.