Why is Digital Marketing Essential for Healthcare?
Since the last few years, we have seen a massive shift from physical to digital practices, leading to what we might refer to as digital existence.
Healthcare websites must employ digital marketing strategies to ensure their success in today's digital age.
Healthcare is a highly competitive industry where digital marketing plays a vital role in promoting your brand, driving traffic to your website, and increasing revenues.
Digital marketing can build trust, influence decision-making, and increase the visibility and reach of a medical brand or practice. Patients rely more on online searches for healthcare information, and social media helps promote excellence, transparency, and patient engagement with providers.
For this reason, companies must spread awareness of their services and quality care to attract new customers. A study has shown that 77% of people prefer to call ahead or perform some research online before visiting a medical practice.
Another study shows that 93 million Americans have searched for information related to healthcare on the internet.
Digital healthcare allows you to reach a broader audience, create a positive brand image, and keep existing patients while attracting new ones. The internet is a handy tool for sharing information with potential patients, and healthcare providers should use it. This blog will discuss the benefits of investing in digital marketing for your healthcare services.
What is Healthcare Digital Marketing?
Using digital marketing to market healthcare is becoming more prevalent.
Healthcare Digital marketing involves strategic outreach and communications intended to attract consumers, guide them through their healthcare journey, and maintain their engagement with the healthcare system.
Digital marketing helps healthcare systems stay connected with, engage, and retain current and future patients. It also helps healthcare systems keep track of patient/physician interactions and what conditions patients are seeking treatment for, thus making it easier to develop effective treatment plans.
Healthcare marketers need to craft remarkable healthcare marketing strategies that significantly impact the healthcare system's bottom line as a whole.
Why Healthcare Needs Digital Marketing
Digital marketing can be a profitable investment option for your online healthcare service. There are many reasons why it's necessary, including the following:
Improved Patient Experience
Keep Patients Long-Term and Increase Loyalty
Targeted Marketing and Personalization
Cost-Effective Marketing Channels
Larger Audience
Increased Website Traffic and Search Engine Ranking
Better Data Insights
There are many reasons to use digital marketing in healthcare, including improved patient experience, targeted marketing, increased website traffic, and increased search engine rankings.
It can address patients' needs and expectations, cultivate competitive advantage, connect you with more patients, helps you to develop robust digital relationships, drives brand awareness, can decrease costs.
Digital marketing is vital for healthcare businesses because it can help you reach more customers, earn more revenue and provide even better patient care.
Healthcare logistics companies can stand out among competitive brands through effective digital marketing and well-crafted campaigns.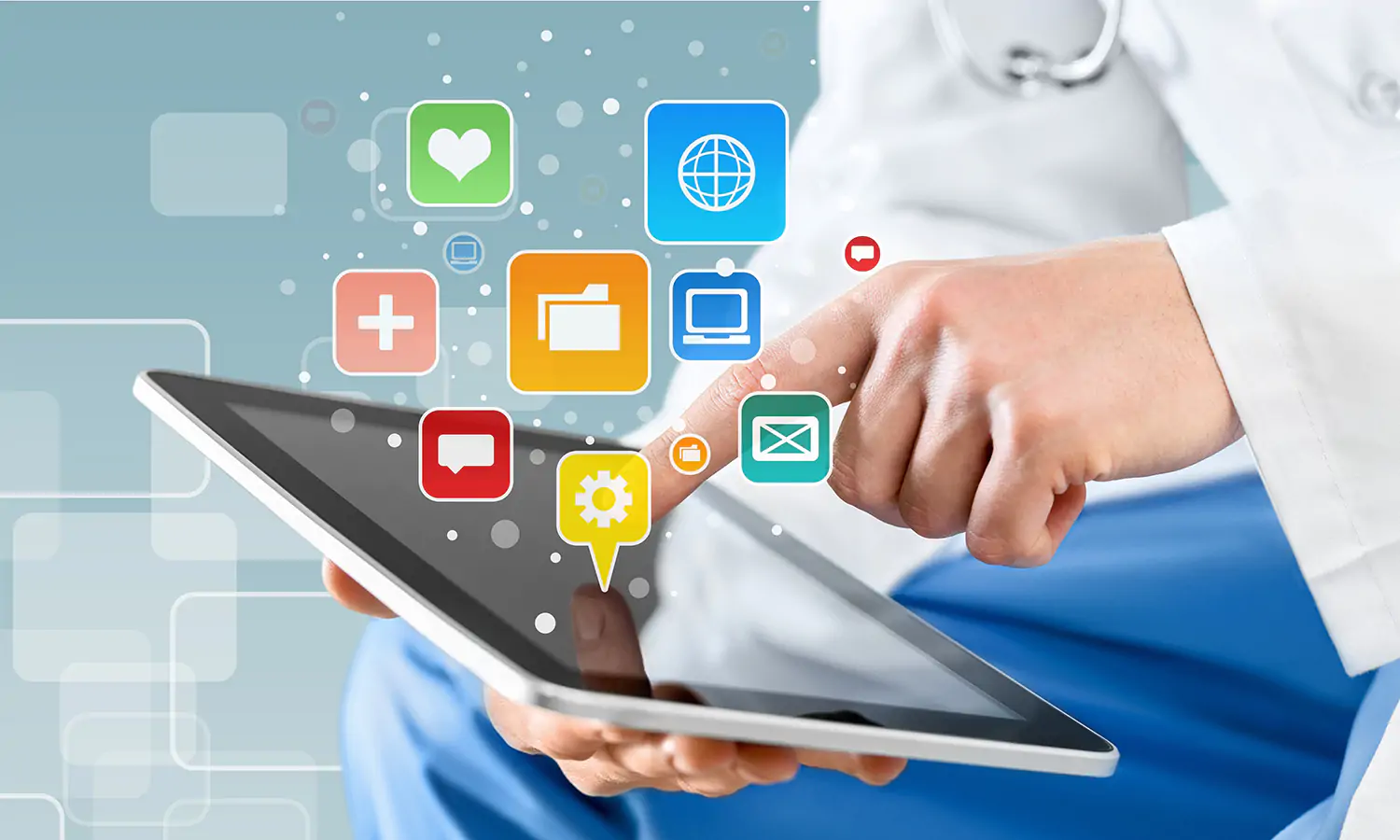 The Role of Digital Marketing in Healthcare
People choose online healthcare services because they get instant responses, can conveniently communicate with healthcare professionals and specialists from their comfortable environment, and can schedule appointments without having to leave home.
We will now discuss digital marketing techniques that can be applied to healthcare services to promote their growth in the online marketplace.
Digital Marketing Strategies
1.    Search Engine Optimization (SEO)
Search engine optimization (SEO) and user experience are inseparable.
For healthcare websites to succeed, they must provide their users with a positive experience—a quality of service that ensures the site is easy to navigate, provides valuable information, and is free from mistakes. In addition to these factors, however, SEO professionals also look at elements like page load time and mobile responsiveness—details that may seem insignificant to some but can be crucial in determining how well a site ranks in search results.
SEO is improving your website's search engine rankings, increasing traffic and leads over time.
Approximately 44% of patients who use a mobile device to research hospitals schedule appointments as a result of their research. Considering overall digital strategy, healthcare marketers should keep search engine optimization (SEO) in mind since consumers frequently search for facilities or health information on search engines.
2.    Social Media Marketing
As the healthcare industry grows, social media is becoming an excellent tool for staying in touch with your patients, even when things are uncertain. Using social media marketing to target patients of different ages, genders, medical conditions, health issues, and so on offers you more significant opportunities for success.
With the help of social media, healthcare providers can promote excellence, transparency, and patient engagement. Patient engagement is essential as it helps in the decision-making process.
A healthcare representative with an active presence on social media provides a variety of services, such as:
Raising public awareness about staying healthy during pandemic times.
Combating misinformation.
Answering common questions.
Providing tips on how to maintain both mental and physical health.
Communicating during a crisis.
Clearing the doubts of patients through their knowledge, and so on.
By implementing effective healthcare SEO strategies, healthcare organizations can also enhance their reputation and increase patient reach. In addition to improving their bottom line, it will help them choose the right healthcare provider for their patients. Partnering with an excellent social media marketing agency can benefit you in many ways.
More than 60% of social media users trust posts from health professionals.
Brand awareness requires high-quality content in the healthcare industry. Healthcare organizations can benefit from digital marketing because it facilitates the production and distribution of content in a more targeted way than traditional marketing.
You can get your expertise to the right audience through content marketing methods such as blogs, infographics, videos, e-books, etc.
With quality-rich content, you can share your expertise and engage your patients through your content.
Your audience can benefit from articles on topics related to your niche, and you can showcase your expertise.
Ensure that the content you develop is relevant to your patients and not merely intended to promote yourself.
With the growth of online content, hospitals and healthcare professionals can create content that improves the patient experience and builds brand awareness. A video explaining a complex procedure is an effective way to increase patient trust. On the other hand, shorter videos are more popular on social media platforms like Instagram, Facebook and Twitter.
4.     Email Marketing
Email marketing is a crucial component of digital marketing in healthcare. The use of email marketing is another effective way to stay in touch with your audience, deliver a personalized experience to them, establish a relationship, and remain in the forefront of their minds.
Healthcare is a sector that's constantly evolving, so it's essential to keep up with the latest trends in digital communication.
By using email campaigns to reach and engage patients, healthcare providers can improve patient satisfaction and care. Email campaigns can be used to send patients reminders about essential treatments and wellness tips, offer discounts on products or services, or create an urgency-driven need for customer service. Also, email campaigns can help to build relationships with potential customers and generate leads for new business opportunities.
Additionally, healthcare providers are turning to email marketing because of its low cost and high ROI (return on investment). Email campaigns are highly targeted and accessible for consumers to interact with—they can click links or fill out forms directly from their inboxes – this makes them an ideal platform for increasing brand awareness and developing robust digital relationships that can help drive revenue growth.
Email marketing tactics must prioritize patient problems and their privacy at all costs. You can hire a digital marketing expert that helps you with email marketing and campaigns and knows all the tactics required to engage your target audience.
Email is 40 times more effective in attracting new patients than Facebook and Twitter together.
5.    Marketing Analytics
Digital marketing offers the advantage of constantly tracking campaign performance and making immediate adjustments if things don't go according to plan. Marketing analytics should guide every campaign's planning and execution.
The power of data analytics is well-known to healthcare marketers. Its use has become increasingly important in the industry as more complex healthcare missions need to be managed in a data-driven way. By understanding how your customers interact with your product or service, you can better understand what works and doesn't.
You can collect data about website visitors, social media engagement and followers, email subscribers, competitors, and more. This information comes in handy when deciding which content works best with your target audience and how you need to adjust things moving forward.
With the right strategy and approach, digital marketing can help you get ahead of the competition.
Digital Marketing Can Help Start-Ups Enter the Healthcare Market
Partnering with a creative digital marketing agency for start-ups can be an affordable way to get your name out there.
You can use digital marketing as a way to gain customers and build a community before you even have the funds for traditional advertising – this can help you establish credibility in the healthcare market and build trust with potential customers before you spend money on more expensive forms of advertising like television commercials or billboards.
Are you looking for a digital healthcare transformation? DevOps Align can help you with that.
Conclusion
The healthcare industry is one of the most profitable industries in the world. Healthcare companies can connect with their target audience with better digital marketing strategies.
Patients often start by visiting a healthcare website, so you must establish an active web presence to make your online medical services successful. You can outsource digital marketing and get the right services and digital marketing solutions you are looking for.
At DevOps Align – a leading digital marketing company, we develop user-friendly healthcare websites with all the features you need, like appointment scheduling, payment options, chatbots, and more.
Please look at our digital marketing pricing packages and pick whichever you prefer best.
You can contact us through our contact form or call (424) 999-0799 if you want to design a fully functional website for your healthcare business. You can count on us to be a valuable partner.